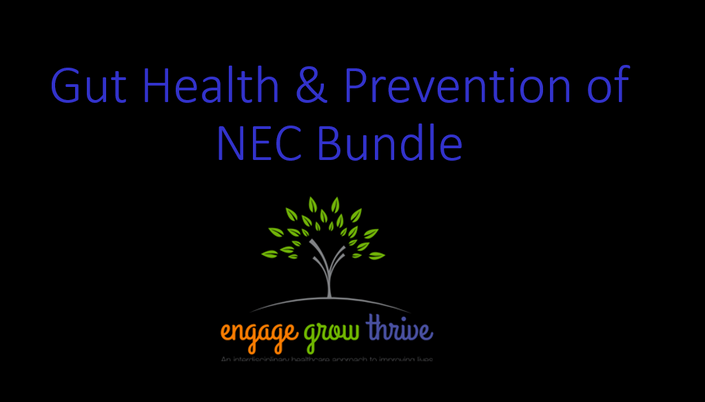 Foundations for Gut Health & Prevention of NEC Bundle
Gut Health Bundle
These three presentations share the importance of establishing a healthy microbiome and human milk in overall short and long-term health for the preterm infant and the prevention of necrotizing enterocolitis.
There is currently a great deal of research adding to our understanding of the importance of the microbiome to health. The microbiome is established during the neonatal period and the preterm neonate is extremely vulnerable to maldevelopment. Establishing a healthy microbiome has life-long implications. This presentation describes the impact of preterm birth on the development of the microbiome and strategies to support healthy development.
Benefits of Human Milk: Human milk is one of the most beneficial and most natural therapies we can provide preterm neonates in the NICU. This presentation includes a discussion of the benefits of human milk, including the differences between mother's own milk and donor human milk and strategies to support mother's lactation with examples of successful QI implementation.
Necrotizing Enterocolitis (NEC) is one of the most devastating complications seen in the preterm infant in the NICU. It significantly increases the risk of death and/or significant long term neurodevelopmental sequelae. This presentation describes risk factors for preterm bowel injury, the mechanisms of NEC, the clinical features, and recommendations for the prevention, diagnosis, and management of NEC.
Objectives:
Define Microbiome, Microbiota, and Dysbiosis.
List two neonatal morbidities linked to gastrointestinal microbiome dysbiosis.
Describe three strategies to support microbiome development in the NICU.
List three benefits of a human milk diet
State two benefits of mother's own milk.
Identify two strategies to support lactogenesis.
Describe three risk factors for the development of NEC in the small baby.
Discuss two complications associated with NEC.
Identify three best practice important in reducing the incidence of NEC.
Describe two challenges in defining what NEC is due to its complex pathogenesis.
List two possible and potential ways to predict or make the diagnosis for NEC when it occurs.
Define two current management approaches to minimizing harm when NEC develops.
Describe two long-term consequences of NEC.
Total CE: 5
NCC Codes: NNP 2 = 2.5; 3 = 2.5 or 7
NCC Codes: NIC 1 = 3; 2 = 2 or 7
NCC Codes: LRN 1 = 1.7; 2 = 1.8; 3 = 1.5 or 7
Rx = 0.75
*Two of these presentations were included in the Small Baby Care Specialist® Program
Last updated: February 2022
Your Instructor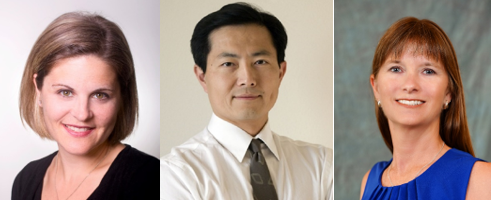 Dr. Christine Bixby is board certified in Pediatrics and Neonatal-Perinatal Medicine. She completed both her Pediatric Residency and Neonatal-Perinatal Medicine Fellowship at Harbor-UCLA Medical Center. She attended medical school at the University of California, Davis. Dr. Bixby is a practicing Neonatologist in the NICU at CHOC Children's Hospital. She is an International Board Certified Lactation Consultant and the Lactation Medical Director at CHOC Children's Hospital where she focuses on breastmilk handling and breastfeeding support in the NICU. She is an advocate for breastfeeding in Orange County through the Orange County Perinatal Committee and the Orange County Breastfeeding Coalition. She has published and speaks frequently on best practices in breastmilk handling and optimizing breastmilk production and breastfeeding in the NICU.
Dr. Jae Kim is the Division Director of Neonatology in the Perinatal Institute at Cincinnati Children's Hospital Medical Center and a Professor of Pediatrics at the University of Cincinnati College of Medicine. His special areas of clinical and research interests include neonatal nutrition, neonatal bowel injury, bedside ultrasound and resuscitation. He is a co-founder of the San Diego Mothers' Milk Bank and the Director of an innovative, nationally recognized multidisciplinary program to advance premature infant nutrition called SPIN (Supporting Premature Infant Nutrition). He is the co-author of the book, Best Medicine: Human Milk in the NICU. He is an active Council member of the AAP Committee on Nutrition.
Mindy Morris is a doctoral prepared neonatal clinician with an aptitude for application of evidence into practice. She has experienced and mastered many roles working in the NICU for over 30 years. She has first-authored two papers demonstrating the application of evidence into practice with positive clinical outcomes while supporting a team-based approach to care. Her foundational core is an enthusiasm for quality and improving the patient, family, and team experience in the NICU. Care of the Extremely Low Birth Weight Infant is Mindy's ardent focus. Her respect for the resiliency of the ELBW infant inspires her to share her extensive knowledge and expertise by designing programs and tools to improve the multidisciplinary team's model of care for this vulnerable population.
Course Curriculum
Foundations for Gut Health & Prevention of NEC Bundle
Available in days
days after you enroll
Supporting Microbiome Development in the Preterm Neonate
Available in days
days after you enroll
Benefits of Human Milk: Supporting Breastmilk & Breastfeeding
Available in days
days after you enroll
Frequently Asked Questions
When does the course start and finish?
The course starts as soon as you enroll. You will have access to this course (videos) for two months. Please be sure to download lecture handouts for ongoing access to the content presented. You must complete and submit the Evaluation at the end of the course to receive CE.
How can I communicate any questions, comments, or feedback?