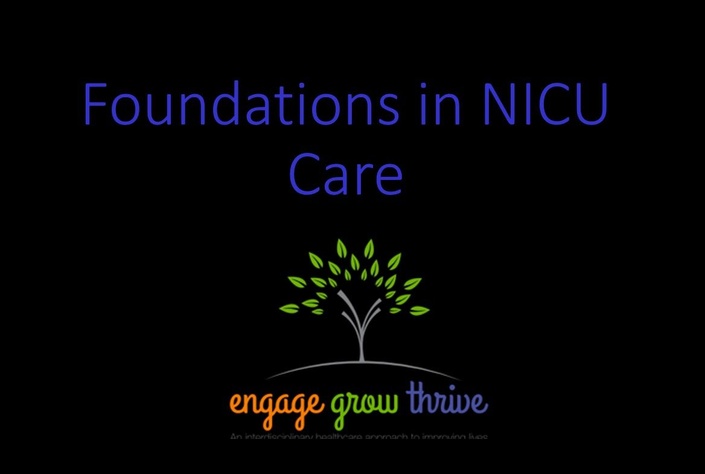 Foundations for NICU Care Bundle
Interdisciplinary teamwork, quality improvement and continuity in care are all foundational elements in caring for babies in the Neonatal Intensive Care Unit. The teamwork presentation focuses on team communication, the use of various tools to assist our communication processes. Continuity of Care has been shown to contribute to improved parent satisfaction, improved outcomes and improved staff satisfaction. This presentation will discuss the concept of continuity and consistency of care from various. Quality and Process Improvement are cornerstones for improving safety, care and outcomes for babies and their families. There are numerous examples in the literature of success in reducing morbidities for babies via QI initiatives. This presentation reviews QI essentials and outlines the steps to reduce practice variation and improve care for neonate and their families.
Objectives:
1. Describe how a team-based approach to care can improve two processes and two outcomes for small babies and their families.
2. Name two specific tools to utilize in the NICU to improve communication between team members.
3. Describe three parent perceptions of "Continuity of Care" in the NICU.
4. Discuss one process that creates synergy among the interdisciplinary team promoting continued, coordinated and comprehensive care to the infant and family.
5. Identify the three phases of the Parent/Nurse Relationship during the NICU Hospitalization.
6.Explain the principles of process improvement and how they can be incorporated to improve outcomes for the small baby.
7.Identify the benefits of utilizing process standardization to reduce practice variation.
8. Compare the difference between ethics and morality.
9. Define autonomy, beneficence, non-maleficence, and justice.
Total CE: 4
NCC Code NNP 5
NCC Code NIC 4
NCC Code LRN 5
Rx = 0
*These presentations were included in the Small Baby Care Specialist® Program
Last updated: December 2021
Your Instructor

Liz Drake has been practicing in the NICU for 35 years. She received her Master's Degree, Neonatal Nurse Practitioner and Clinical Nurse Specialist certification from UCLA. Quality Improvement, Neuro-protective Care and Family Partnered Care are her passions and expertise. She has a strong desire to teach the healthcare teams about the uniqueness and language of the premature infant as every touch and experience can have impact. Through team building, education, academic thinking and direct patient care Liz has a tireless focus on excellence. Her vision for the future is to create passion and desire in others to practice with intention, purpose and to practically integrate evidence into the care provided to infants and families.
Mindy is a doctoral prepared neonatal clinician with an aptitude for application of evidence into practice. She has first-authored two papers demonstrating the application of evidence into practice with positive clinical outcomes while supporting a team-based approach to care. Her foundational core is an enthusiasm for quality and improving the patient, family, and team experience in the NICU. She is a faculty member for the Vermont Oxford Network (VON) Quality Improvement Collaborative, Micropremature Homeroom. Care of the Extremely Low Birth Weight Infant is Mindy's ardent focus. Her respect for the resiliency of the ELBW infant inspires her to share her knowledge and expertise by designing programs and tools to improve the multidisciplinary team's model of care for this vulnerable population.
Dr. Ursprung received his medical degree & pediatric training from the University of Texas, Southwestern Medical School. His neonatology training occurred in the division of Newborn Medicine at Harvard Medical School/Children's Hospital Boston, where he also completed a two year NIH funded clinical research fellowship & a master's degree in Medical Science from Harvard Medical School. Dr. Ursprung has a long track record in Quality and Safety work in Neonatology. He currently is the director of High Reliability Organization & Patient Safety for Mednax Women and Children's Services. He also serves on the Vermont Oxford Network's Database Advisory Committee.
Dr. Anita Shah is a neonatologist working in Southern California. She completed her Pediatric Residency at Boston Children's Hospital Harvard University and her Neonatal Fellowship at Seattle Children's Hospital University of Washington. She is actively engaged in quality improvement in the NICU she works and has a special interest in neonatal ethics. She completed a Clinical Ethics Certificate at the University of Washington.

Course Curriculum
Instructions & Handouts
Available in days
days after you enroll
Teamwork & Communication
Available in days
days after you enroll
Continuity of Care in the NICU
Available in days
days after you enroll
Frequently Asked Questions
When does the course start and finish?
The course starts as soon as you enroll. You will have access to this course (videos) for two months. Please be sure to download lecture handouts for ongoing access to the content presented. You must complete and submit the Evaluation at the end of the course to receive CE.
How can I communicate any questions, comments, or feedback?