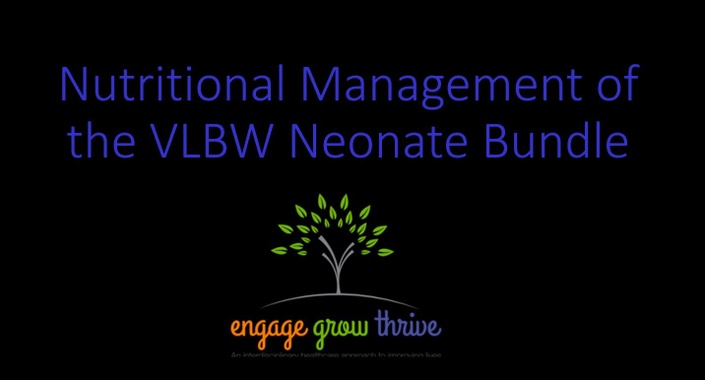 Nutritional Management of the VLBW Neonate Bundle
Nutritional support of the preterm neonate is a foundational concept in optimizing long term outcomes. In this comprehensive nutritional management bundle, presentations include:
Prevention of Growth Failure: Includes the definition of malnutrition or growth failure and strategies to reduce this significant and unfortunately common morbidity in the preterm neonate. This topic presents nutrient requirements both parenteral and enteral, strategies for consistent nutritional practices, and discharge planning.
Benefits of Human Milk: Human milk is one of the most beneficial and most natural therapies we can provide preterm neonates in the NICU. This presentation includes a discussion of the benefits of human milk, including the differences between mother's own milk and donor human milk and strategies to support mother's lactation with examples of successful QI implementation.
Pre-Feeding Interventions: Extreme preterm neonates endure prolonged periods of absent positive experiences coupled with severely negative and painful procedures in their life that impact their desire and ability to feed orally. This lecture will focus on activities and interventions that can prepare the infant and help to build the foundational skills for positive, successful and enjoyable oral feeding.
Necrotizing Enterocolitis (NEC) is one of the most devastating complications seen in the preterm infant in the NICU. It significantly increases the risk of death and/or significant long term neurodevelopmental sequelae. This presentation describes risk factors for preterm bowel injury, the mechanisms of NEC, the clinical features and recommendations for the prevention of NEC through the use of standardized feeding routines inclusive of human milk.
Objectives:
1. Describe two evidence-based nutritional interventions to prevent post-natal growth failure.
2. Identify one long-term risk associated with growth failure.
3. Name one component in maternal breastmilk that helps to facilitate growth.
4. Describe two clinical methods to monitor growth in the premature infant.
5. Identify one nutrition intervention that supports the growth of the small baby after discharge.
6. List three benefits of a human milk diet.
7. Discuss two important benefits of Mother's own milk.
8. Identify two strategies to support lactogenesis.
9. Describe two ways a baby is developing feeding skills in utero.
10. Identify three neonatal experiences that can negatively affect the premature infant's future feeding skills.
11. Describe three pre-feeding techniques to facilitate the foundation for positive oral feeding skills.
12. Describe three risk factors for the development of NEC in the small baby.
13. Discuss two complications associated with NEC.
14. Identify two best practice strategies vital to implement to reduce the incidence of NEC.
Total CE = 7
NCC Code NNP 1, 2, 3 or 7
NCC Code NIC 1, 2, 3 or 7
NCC Code LRN 2, 3 or 7
Rx = 0.6
*These presentations were included in the Small Baby Care Specialist® Program
Your Instructor
The faculty for the Nutritional Management of the VLBW Neonate Bundle truly exemplifies the interdisciplinary team involvement necessary for improving nutritional outcomes in the preterm neonates.
Jae Kim is a neonatologist and gastroenterologist with an extensive background in neonatal nutrition.

Christine Bixby is a neonatologist and International Board Certified Lactation Consultant.
Karin Mitchell is a speech language pathologist certified as a neonatal therapist and in lactation education. She specializes in the care and treatment of pediatric feeding and swallowing.
Mindy Morris is a neonatal advance practice nurse with a passion and expertise in the nutritional care of the ELBW neonate.
Gina O'Toole is a neonatal dietitian and lactation educator focusing her efforts on the importance of breast milk for the high-risk neonate.
Course Curriculum
Instructions & Handouts
Available in days
days after you enroll
Prevention of Malnutrition & Growth Failure
Available in days
days after you enroll
Parenteral Nutrition
Available in days
days after you enroll
Frequently Asked Questions
When does the course start and finish?
The course starts as soon as you enroll. You will have access to this course (videos) for two months. Please be sure to download lecture handouts for ongoing access to the content presented. You must complete and submit the Evaluation at the end of the course to receive CE.
How can I communicate any questions, comments, or feedback?